WE LOVE OUR VOLUNTEERS. THANK YOU FOR MAKING A DIFFERENCE!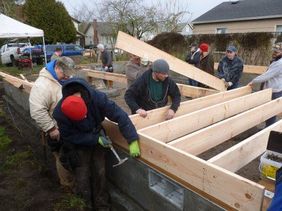 Volunteer!
Please join us to make the dream of homeownership a reality for deserving families in the Cowlitz County. Volunteer opportunities take place on and off the construction site. We have various sites and
committees to meet your interest:
Caring Through Construction
Volunteer on one of the construction sites to build new or renovated Habitat houses! No previous construction experience necessary. Volunteer as a:
Individual
Corporate Group Team Building
Faith Group
Collegiate Challenge and Youth Group
Women Build or other Special Event or Activity
Volunteering Beyond Construction – Join a TEAM!
Building dreams takes lots of "behind-the-scenes" work from dedicated volunteers. We have a variety of ways that community members can get engaged with us...
no tool belts required - just lots of heart and interest in helping others:
(See separate page listing detailed information about each committee - there's something for everyone!)
1. A Brush with Kindness Committee: Meets as needed; call the office for details.
2. Church Relations Committee: Meets the 2nd Thursday of every other month at 4:30 pm at the CCHFH Office.
3. Construction Committee: Meets the 3rd Wednesday of each month at 4:30 pm at the CCHFH Office
4. Deconstruction Team: Meets monthly as projects/needs arise. Call office for details.
5. Development & Special Events Committee: Meets the 4th Tuesday of each month and as needed. Call Office in interested in helping!
6. Family Selection Committee: Meets as needed at the CCHFH Office.
7. Family Support Committee: Meets once a month on Friday. Call the CCHFH Office for time and location as this varies per advocates needs.
8. NRI (Neighborhood Revitalization Initiative):
Call office for details.
9. Public Relations Committee: Meets the 4th Tuesday of each month as needed. Call OFFICE at 425-6177.
10. Recycling Committee: NEED Assistance for monthly and weekly pick-ups! Please call the Office for details. Have INSIDE and EXTERIOR Routes available!!
11. Site Selection Team: Meets Quarterly. Call Diane, our Executive Director for details.
12. Volunteer & Office Services: Meets (every other month) even months - Tuesday at 1:00 p.m. at CCHFH Office
Construction FAQ
Do you have questions about volunteering with Habitat? Take a look at some of the questions others have had when considering volunteering with Cowlitz County Habitat for Humanity.
Attend an Orientation - NEXT ORIENTATION - Call the office for details and sign up to VOLUNTEER....NOW!!
​ The office address is 1323 S. 13th Avenue, KELSODo you want to know more before you volunteer? Attend a Habitat orientation held several times throughout the year.
Call our office at 360-425-6177 or e-mail office@cowlitzhabitat.org or our director at dperron@cowlitzhabitat.org.
---